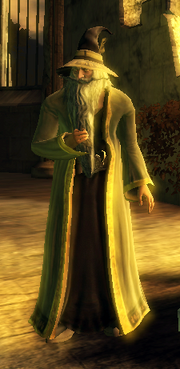 Archmage Rakorium is a confused, yet brilliant magician. At the time he is on an expedition through Kosh, to discover 'Lizard conspiracies'. He is accompanied by the two novices Nottel and Rufus.
Aventurian Background
Edit
Rakorium Muntagonus is a brilliant master in the art of transformation, who is unfortunately by now affected by paranoia and insanity. After many years of research into the behavior of lizards and his task as guardian of the book "Codex Sauris", he is meanwile of the opinion that there is a Lizard conspiracy after (almost) everything and everyone. Apparently one of their goals is, to let Zze Tha rise again.
Associated Quests
Edit
Locations
Edit
Pick Pocket
Edit
(Difficulty Increase: 0)
Worth knowing
Edit
Ad blocker interference detected!
Wikia is a free-to-use site that makes money from advertising. We have a modified experience for viewers using ad blockers

Wikia is not accessible if you've made further modifications. Remove the custom ad blocker rule(s) and the page will load as expected.