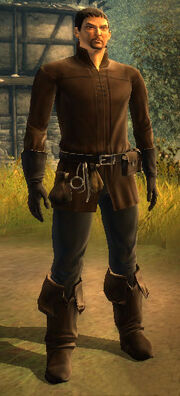 The Horasian burglar is a self-declared master in the art of wealth redistribution. He steals because he loves the challenge and the danger. He has dedicated his life to cracking locks and outsmarting traps. His sharp senses and nose for danger are second to none.
Magic Type
Edit
None
Attributes
Edit
Base Values
Edit
Bonuses/Penalties
Edit
Combat Talents
Edit
Special Abilities
Edit
Recipe Book
Edit
Equipment
Edit
Ad blocker interference detected!
Wikia is a free-to-use site that makes money from advertising. We have a modified experience for viewers using ad blockers

Wikia is not accessible if you've made further modifications. Remove the custom ad blocker rule(s) and the page will load as expected.