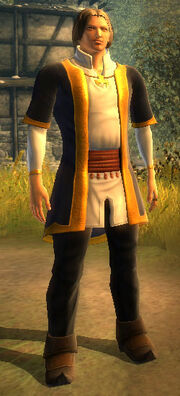 The charlatan dropped out of his training at a magic academy and does not possess the full repertoire of an Aventurian wizard. He is a master of trickery and illusion with excellent dexterity and sleight of hand. His is charismatic and knows how to look after himself with an Épée.
Magic Type
Edit
Attributes
Edit
Base Values
Edit
Bonuses/Penalties
Edit
Combat Talents
Edit
Special Abilities
Edit
Recipe Book
Edit
Equipment
Edit
Ad blocker interference detected!
Wikia is a free-to-use site that makes money from advertising. We have a modified experience for viewers using ad blockers

Wikia is not accessible if you've made further modifications. Remove the custom ad blocker rule(s) and the page will load as expected.