Ad blocker interference detected!
Wikia is a free-to-use site that makes money from advertising. We have a modified experience for viewers using ad blockers

Wikia is not accessible if you've made further modifications. Remove the custom ad blocker rule(s) and the page will load as expected.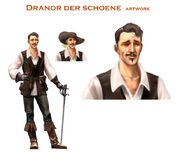 Dranor the Handsome, is a thief and a trickster. He has nimble fingers and is no stranger to locks and traps. Although he knows how to use a rapier, he prefers to get through a tricky situation by charming or talking his way out of it rather than resorting to violence.
You will first come across him in Avestreu (during the quest The Diadem And The Lover), where he enables you to use his social and thieving talents, even if you don't have any yourself. As part of the story he leaves the party again shortly before entering Ferdok (so you should take away all important or valuable items that he is carrying, before leaving Avestrue), but you can get him back by means of the quest Salina's Request after solving the Murders in Ferdok. (Note: In my game I had to go to the Ardo's residence first after completing the Murders in Ferdok quest. After talk with Caretaker_Muddlemosh Salina appeared on the square.)
Associated quests
Edit
Initial values
Edit
Attributes
Edit
Base Values
Edit
Advantages and Disadvantages
Edit
Combat Talents
Edit
Special Abilities
Edit
Initial Equipment
Edit
Locations
Edit
Worth knowing
Edit