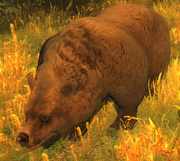 Fluffy the dancing bear can be found at the Festival square in Ferdok's Praios Square quarter, together with his owner Firnjan the Bearmaster. Once the party has solved the multiple murder mystery in Ferdok, Fluffy runs off, apparently out of boredom. It's up to the heroes to track him, calm him down and return him to Firnjan.
Associated Quests
Edit
Ad blocker interference detected!
Wikia is a free-to-use site that makes money from advertising. We have a modified experience for viewers using ad blockers

Wikia is not accessible if you've made further modifications. Remove the custom ad blocker rule(s) and the page will load as expected.