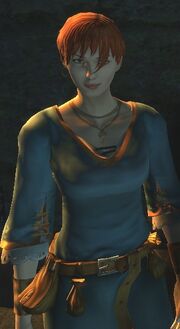 Gladys Shladromir is a sly charlatan. She knows various magic tricks and is equally at home in "normal" society, as well as more "shady" circles. Gladys abhors brute force, although she is very proficient with a foil when she is forced to defend herself.
Associated Quests
Edit
Locations
Edit
Initial values
Edit
Attributes
Edit
Base Values
Edit
Advantages and Disadvantages
Edit
Combat Talents
Edit
Special Abilities
Edit
Initial equipment
Edit
Worth knowing
Edit
Ad blocker interference detected!
Wikia is a free-to-use site that makes money from advertising. We have a modified experience for viewers using ad blockers

Wikia is not accessible if you've made further modifications. Remove the custom ad blocker rule(s) and the page will load as expected.