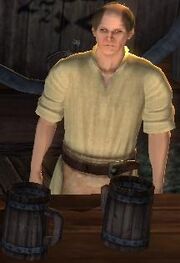 Innkeeper Thalion is the owner of the tavern 'The Jagged Blade' in Avestrue. In the past he once was a wagoner for the brewery in Ferdok and that's how he befriended the previous owner of 'The Jagged Blade'. When the previous owner died, it turned out that he left a will in which he stated his wish that Thalion would become the new innkeeper.
Associated quests
Edit
Merchandise
Edit
Worth knowing
Edit
Profession: Innkeeper of 'The Jagged Blade'
Ad blocker interference detected!
Wikia is a free-to-use site that makes money from advertising. We have a modified experience for viewers using ad blockers

Wikia is not accessible if you've made further modifications. Remove the custom ad blocker rule(s) and the page will load as expected.