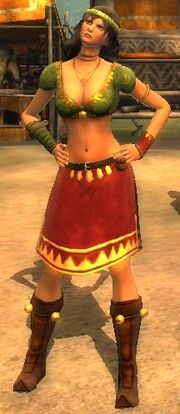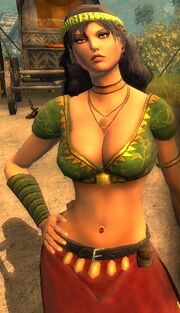 Salina is the sister of Hamlok. The two want to travel to Ferdok, to make some money during the festivities for the proclamation of the dragon quest. But because of the lock-up they are stranded in Avestrue. There Salina's valuable diadem was stolen by her lover Dranor. She asks the heroes to find Dranor, and in turn she will attest for you with Tollkeeper Nandor.
Associated Quests
Edit
Pick Pocket
Edit
(Difficulty Increase: +6) When you pick pocket Salina, you get some money (5T 2F) and Hamlok's brooch (worth: 5Ts). The counterpiece, Salina's brooch (also worth 5Ts) can be pick pocketed from Hamlok and later on in Murolosh, this can be sold to the the dwarvish admirer Grimbeard for 10 Ducats (after a successful Haggle test even for 15 Ducats).
Locations
Edit
Worth knowing
Edit
Ad blocker interference detected!
Wikia is a free-to-use site that makes money from advertising. We have a modified experience for viewers using ad blockers

Wikia is not accessible if you've made further modifications. Remove the custom ad blocker rule(s) and the page will load as expected.