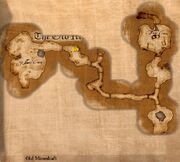 There is an Old Mineshaft near Berry Lake in Avestrue. In it lives the bear that Hunter Owlstone wants killed. Further exploration also reveals, that Archmage Rakorium got lost here and needs some assistance finding his way back out.
Visited for Quests
Edit
Relevant NPC
Edit
Possible Opponents
Edit
Connected Areas
Edit
Worth knowing
Edit
Ad blocker interference detected!
Wikia is a free-to-use site that makes money from advertising. We have a modified experience for viewers using ad blockers

Wikia is not accessible if you've made further modifications. Remove the custom ad blocker rule(s) and the page will load as expected.