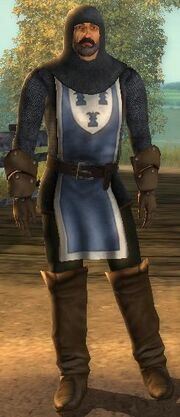 Sergeant Erland can be found at the entrance to Avestrue, where he points the main character in the right direction at the very start of the game. At this stage he does not yet offer any training services. Later he can be found again in the Ducal Citadel in Ferdok, this time as a Trainer.
Erland is the officer on guard in Wagoner's Home in Ferdok although at the start of the game you find him in Avestrue, where he was stationed at the request of Head Guardsman Tashman.
Associated Quests
Edit
Available Talents (in Ferdok)
Edit
Available Special Abilities (in Ferdok)
Edit
Pick Pocket
Edit
(Difficulty Increase for Talent Test: 4)
Locations
Edit
Worth knowing
Edit
In Avestrue, if you ask him about his past and make a successful Talent Test on Etiquette (with a TP>3) you receive 5 AP. In Version 1.0(1) there is a Bug that allows the player to infinitely continue earning 5 AP when doing this.
Profession: Sergeant
Ad blocker interference detected!
Wikia is a free-to-use site that makes money from advertising. We have a modified experience for viewers using ad blockers

Wikia is not accessible if you've made further modifications. Remove the custom ad blocker rule(s) and the page will load as expected.