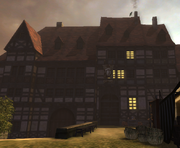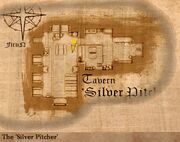 The Silver Pitcher is a tavern at the Praios Square in Ferdok. It is run by innkeeper Tradan Brewmore.
Relevant NPCs
Edit
Merchant
Townsperson
Woodcutter
None officially, though it is visited for tasks hidden in other quests.
Merchants
Edit
Worth knowing
Edit
The cook at the tavern will buy Wolf rat's tails from you for 2F a piece, or for 4F after a successful Haggle test with a difficulty increase of 3.
After completing the third assignment of the Dragon Quest you can find 3 Trolls in the pub, and Tradan asks you to remove them. When you talk to him again after the task, you can raise the reward for this unofficial quest from 2 to 6 ducats through haggling (+5 AP).
Ad blocker interference detected!
Wikia is a free-to-use site that makes money from advertising. We have a modified experience for viewers using ad blockers

Wikia is not accessible if you've made further modifications. Remove the custom ad blocker rule(s) and the page will load as expected.