Ad blocker interference detected!
Wikia is a free-to-use site that makes money from advertising. We have a modified experience for viewers using ad blockers

Wikia is not accessible if you've made further modifications. Remove the custom ad blocker rule(s) and the page will load as expected.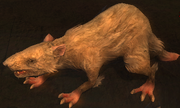 Unlike smaller species of rats, wolf rats will occasionally attack humans. They can be found both in the wilderness and in built-up areas.

Wolf rats can be found in cellars, dungeons and in the sewers. A single wolf rat is not very dangerous to unexperienced explorers, but be very careful when you are attacked by a whole pack of them!
Statistics
Edit
Vitality: 12, 20, 60
Weapon: Rat Bite
AP Reward: 1 (upto level 6?) for VI 20
AP Reward: 1 (upto level 7) for VI 60
Animal Lore
Edit
(Difficulty Increase 0 for VI 12, 1 for VI 20, 2 for VI 60)